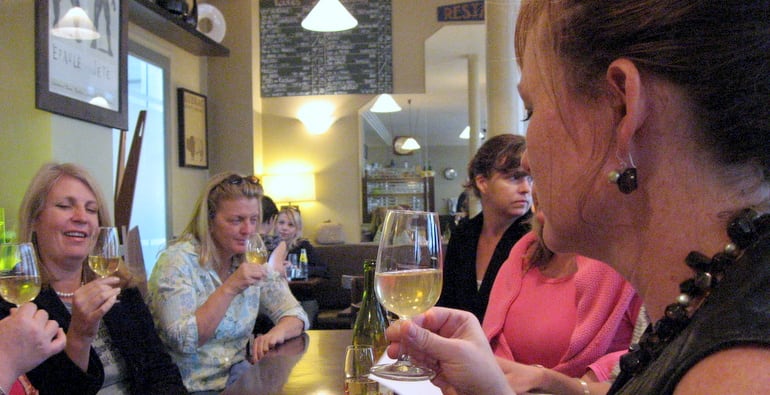 "The Joys of Natural Grower Wines by the Glass"
Montmartre returns to the heights of the Butte from 11 to 15 October 2017. This year, the French Enlightenment is celebratedalong with the wine of the Clos Montmartre. The festival attracts 5 hundred thousands visitors. Opens October 11 at the town hall of the 18th
This year, French acress Sarah Biasini daughter of Romy Schneider will lead the parade and succeed a long list of famous women going back to Misinguett in 1934.
This year, Montmartre celebrates the harvest by inviting Portugal to exhibit their unique gastonomy and terroir. Shows, walks, tastings, dancing and exhibitions open to all. You will also be excited to know La Cuvée des Lumières du Clos Montmartre (rouge et rosée) -- cru 2016 -- will be on sale. Museum of Momery of Electricity, Gas and Pulic Lighting Discovery Working for Light Painting Exceptional Visit backstage of the Moulin Rouge Japanese Calligraphy
11:45am Depart from Clos Montmartre 1:00pm Arrive at the Town Hall of the 18th, Place Jule Joffrin At the head, Manoulia the Queen of the Harvest The Grand Défilé 2017 is dedicated to the Enlightenment! Like our cultural diversity, it brings together the traditional fraternal and gastronomic fraternities of the whole of France, bandas, marching bands, batucadas or folk groups as well as inhabitants of the 18th in aprons of all colors, orange saris , in kimonos or luminous hats.
Montmartre Wine Promenade - Available Tu – Sat at 3:30pm
You may have stayed in Paris several times, and have walked past the rich opportunities the city offers to wine lovers. This is time to correct the omission! Our wine promenade has one goal: To help you enter the many wine venues in Paris and exercise your curiosity, open your palate on your own and without outside help.
Join our wine expert on a 3hr walk through one of the most historic and picturesque parts of Paris. As you wind through the small winding streets, you will stop at 3 bars or cafes to discover interesting small producer wines.

Includes: English speaking wine expert 3hrs / 3 glasses of wine pp /
Cost for 2 people: 145€ Price per person decrease with larger groups.