Champagne & Sparkling Wine Pairing & Touring Experience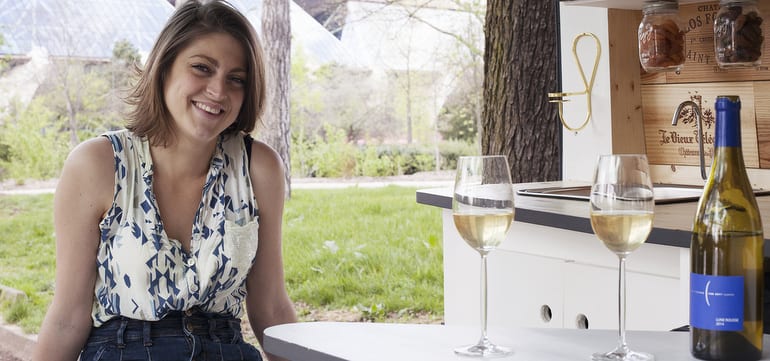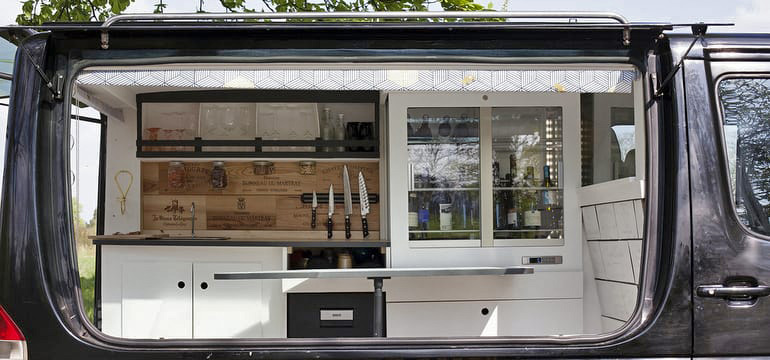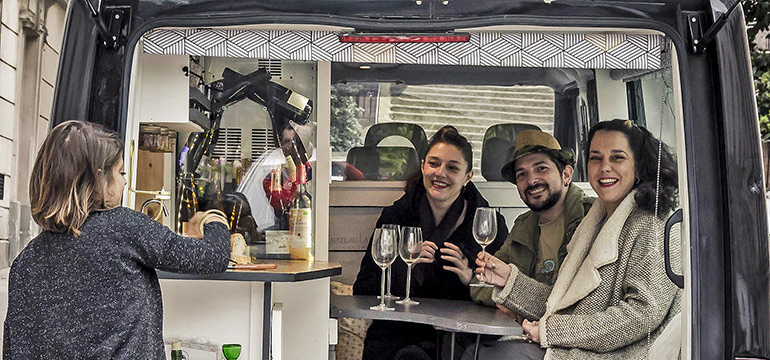 Discover the Parisian Lifestyle of pairing food and wine on a totally unique experience with wine expert and chef Emelie. Your private chef will pick you up at your accommodation in her specially designed private touring & dining car and drive you to Montmartre for a delicious multi course tasting meal prepared by your chef, paired with champagne and sparkling wines and an entertaining masterclass in matching wine, food and more.
En route to you will see the Champs Elysee, Trocadero, Concorde, Opera Garnier and other famous monuments on the right bank. Your first stop at the Place du Trocadero will be for glass of white wine right in front of the Eiffel Tower.
When you arrive in Montmartre, the windows will be opened in the summers your chef will serve you a French Fusion style cold tasting meal paired with 3 more wines and a cup of Sake.
Sample Menu of 7-9 dishes
- Goat Gorgonzola from Italy with dates.
- Cod fish, coriandre, avocado, tomato,Granny Smith with Kakamsi vinegar.
- Withe beans from Navarre with Soubrassade
- Crème of parsnip and hazelnut oil
- Etivaz cheese with brioche and mum's homemade apricot jam.
- Charcuterie meats
- Chocolate and Amarena
- Beaf tartare with oil of mushroom, Teriyaki and Beaf Cecina
- Sesame chocolate
Learn about:
- Winemaking and wine tasting.
- The difference between the conventional, organic, biodynamic, nature wine.
- Terroir and AOC.
- Food & Wine Pairing
Your experiences ends at Sacre Coeur after lunch where you will have a wonderful view over the rooftops of Paris or if you reserve the Dinner Tour you will enjoy an illuminated Paris drive back to your accommodation.
No lunch service at lunch from July 15 and Aug 15
Minimum 2 / Maximum 5
Offers
Chefs Table and Tour - Lunch or Apero from 125€pp
Available Tuesday to Saturday 10am or 2pm
Enjoy a 5 glass wine paired lunch with your private chef/wine expert after your drive by some of the famous monuments of Paris as you head to Montmartre
Includes: 4 glases of wine/ 1 glass of champagne/ multi course fresh food dinner / mini city tour / private food & wine Masterclass / Hotel Pick up
Chef's Table & Tour - Dinner from from 150€pp
Available Tuesday to Saturday 8pm
It's nightfall and your personal chef will pick you up at your hotel and take you on an illuminated tour of Paris as you head up to Montmartre for a romantic multi course and paired wine dinner and presentation.
Includes: 4 glases of wine/ 1 glass of champagne/ multi course fresh food dinner / mini city tour / private food & wine Masterclass / Pick up and Drop Off
Private Tour with Lunch & Champagne Vineyard Masterclass
Available Daily
Learn about Champagne in Champagne from an expert chef/wine expert. Discover a famous cellar, faily vineyards and enjoy a multicourse tasting lunch in a private dining car right in the Vineyards.
Includes: 5 glasses of Champagne & Sparkling Wines / multi course cold tasting lunch / Custom created day of vineyard and Champagne House visits.