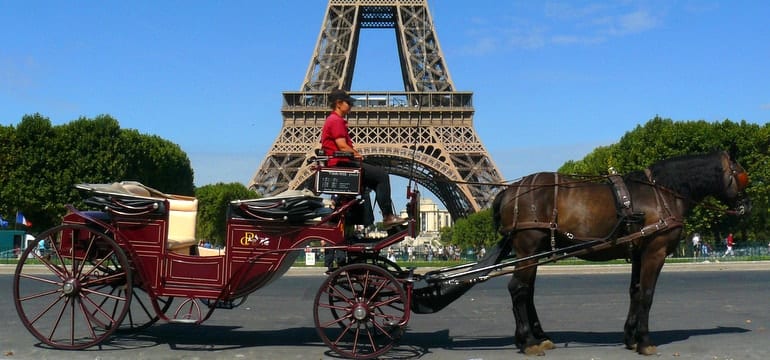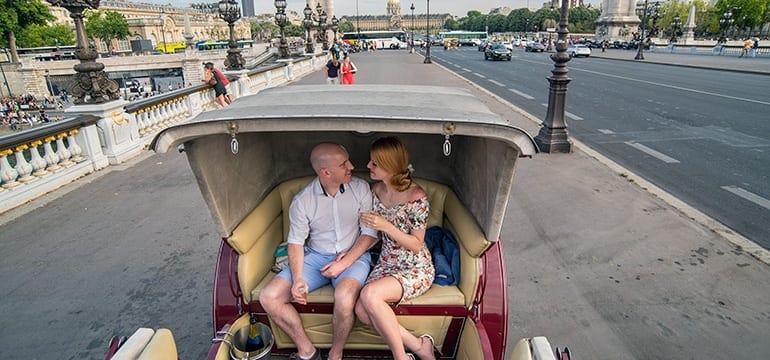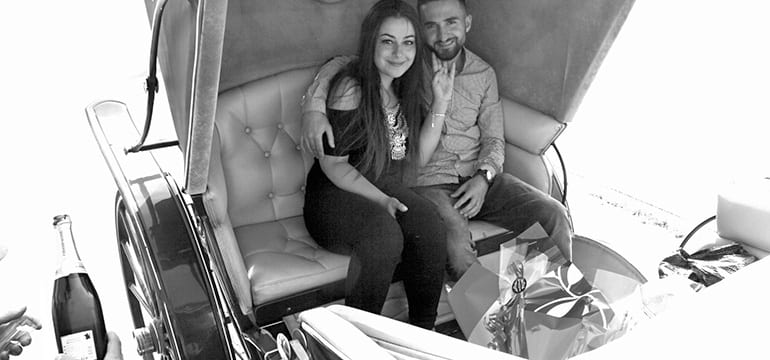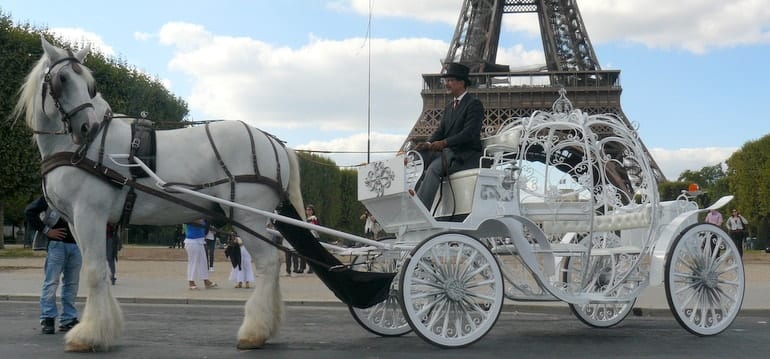 Horse & Carriage Rides
Our one hour tour passes some of the most beautiful monuments of the Belle Epoque, namely the Eiffel Tower, Alexendre III Bridge named after the Czar of Russia, Grand Palais, Petit Palais, as well as the Art Deco Theatre de Champs Elysees. If available, our 90 minute ride at 6pm, which stops at the Place du Trocadero where you can take a photo of the Eiffel Tower from the best vantage point In Paris.
It's hard to believe there is only one single carriage working daily In Paris and even though you many find offers all over the web. Providing this service is truly a labor of love. We are pleased to be the prime source and have been constantly receive 5 star reviews over the past 7 years for the quality of our serive and the emmaculate condition of our horses and custom made carriage.
A horse and buggy (in American English) or horse and carriage (in British English) refers to a light, simple, two-person carriage of the 19th and early 20th centuries, drawn usually by one or two horses. It is now the first time in 40 years that a horse and carriage has appeared on the streets of Paris.
Everyday the horses are brought into Paris with our Burgundy Carriage from over 50km away. We arrange over 800 rides a year so when you book with us you can get that little extra attention to make sure everything is arranged correctly. The White Cinderella Carriage is available for weddings and special occasions.
Choose from a wide selection of tasting tours:
1hr Romance Route - Ref HOR1
Available Wednesday to Sunday 12:00pm to 7:00pm on the hour
Pont Alexandre III - Petit & Grand Palais - Rond-point des Champs-Elysées - Ave. Montaigne - Pont de l'Alma - Champs de Mars
Includes: Private Ride for 1hr
1 1/2hr Royal Route with Champagne - Ref HOR2
Available Wednesday to Sunday 2:30pm or 6:00pm
Highlights above plus Avenue Marigny - Rue du Fbg Saint-Honoré - rue de Castiglione - Place Vendôme - Rue de la Paix - Place de l'Opéra - Avenue de l'Opéra - Pyramide du Louvre - Rue de Rivoli
Includes: Private Ride for 1 1/2hrs / Bottle of Champagne
2hr Notre Dame Route with Champagne - Ref HOR3
Available Wednesday to Sunday 2:00pm - 5:00pm
Highlights above plus Place Vendôme - Rue de la Paix - Quai de la Mégisserie - Pont Notre-Dame - Notre-Dame - Quai de la Corse - Pont-Neuf
Includes: Private Ride for 2hrs / Bottle of Champagne
Champs Eysee/Trocadero Route - Ref HORP4
Available Wednesday to Sunday at 6:00pm
Highlight includes: Pont Alexandre III, Petit & Grand Palais, Champs Elysee, Turn just before the Arc du Triomph, Stop at Trocadero for quick photography shoot then return to the Eiffel Tower
Includes: Private Ride for 1 1 /2hrs / Bottle of Champagne / Photographer to Capture the Moment- 10 mins