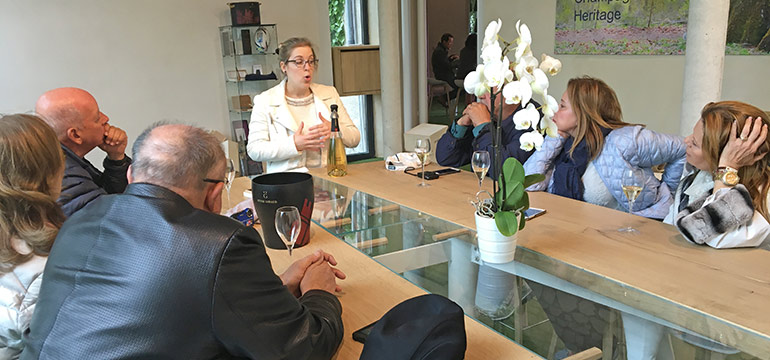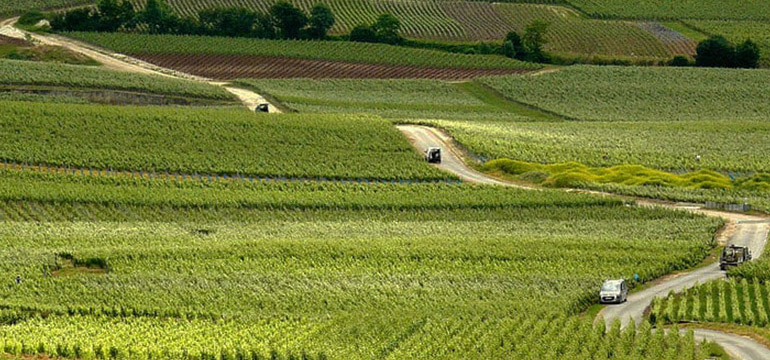 Visit a Champagne Producer
All shared tours are provided with English speaking driver guides and air conditioned mini vans holding up to 8 passengers, and include cellar visits, tastings, and lunch.
Champagne is split into five wine producing districts within the administrative province-the Aube, Cote des Blancs, Cote de Sezanne, Montagne de Reims, and Vallee de la Marne. The towns of Reims and Epernay are the commercial centers of the area, which is where we focus of shared tours.
Veuve Clicquot, Reims Cathedral & Tasting Lunch
Departs from Paris taking the 7:50am from Gare de l'Est, your first cellar visit and tasting will be at Veuve Clicquot on Wednesday and Friday or Champagne Mumm on Monday, before driving to a small family producer for a tasting lunch and where you will be introduced you to local specialties, paired with three types of Champagne (Blanc de blancs, Blanc de noirs and Rosé) of the main terroirs of the Montagne de Reims, Vallée de la Marne and Côte des Blanc regions. After lunch you will have a guided tour of the Cathedral of Reims. Listed in the Unesco World Heritage, 13th century Notre-Dame de Reims Cathedral is one of Europe's most important Gothic structures.
Includes: Visit & Tasting at Veuve on Wednesday or Friday and Mumm on Monday / visit Reims Gothic Cathedral / 3 course Champagne lunch / 1 family estate visit
Moet, Epernay, Hautvillers & Tasting Lunch
you will start your day driving along Scenic Route du Champagnes through the vineyards and picturesque Grand Cru villages like Ay, Hautvillers, Bouzy, Le Mesnil, Verzenay toward the Côte des Blancs passing some of the most famous Grandes Maisons de Champagne such as: Bollinger, Gosset, and Deutz. We will begin with a guided tour and tasting at world famous Grande Maison de Champagne Moët & Chandon. Then stroll along the Avenue de Champagne in Epernay located in the heart of town, Epernay internationally known as the "Capital of Champagne".
Includes: Visit & Tasting at Moet et Chandon / 3 course Champagne lunch / 1 family estate visit